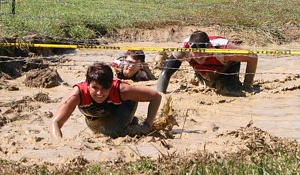 Entries are accepted online only.
ALL ENTRY FEES ARE NON-REFUNDABLE. Entries may be transferred to another participant for a $10 fee.

The earlier you sign up, the cheaper it is:
$45 - now until December 31, 2016
$55 - January 1, 2017 - February 28, 2017
$65 - March 1, 2017 - June 11, 2017
$65 - Day of Race - No race t-shirt
$20 - Tamers-in-Training Kids' Races (Ages 4-12) now until June 11, 2017. Please note the time changes for the kids' races this year. 1:00 pm for the 4-8 year olds/1:30 pm for the 9-12 year olds.
$25 - Day of Race - No Race T-Shirt. Click Here for more information.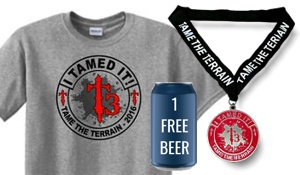 What Do You Get?
T3 T-shirt
T3 Survivor Medal
One (1) free beer for runners age 21 and older
DJ with Rockin' sounds
Primitive Washing Facilities
Participating in The T3 Race for ultimate bragging rights!
Spectators:
Not sure if you want to challenge the terrain? That's ok! Come out, enjoy music, food, drinks and the opportunity to watch racers Tame the Terrain.

Click Here for Registration information.