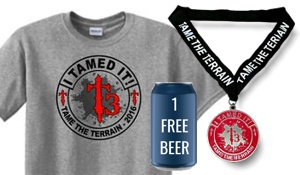 What Do I get for my Entry Fee?
T3 T-shirt
T3 Survivor Medal
One (1) free beer for runners age 21 and older
DJ with Rockin' sounds
Primitive Washing Facilities
Participating in a T3 race for ultimate bragging rights!
Are Spectators allowed?


YES, we encourage spectators to come out and enjoy the music, food, drinks, atmosphere and opportunity to watch the participants "Tame the Terrain". Spectating is FREE and parking will be available for $10 per vehicle.

How do I register?


To Register, click here.
All entry fees are non-refundable. You may transfer your registration to another participant by creating a Runner's Account through RunSignUp during the registration process. There is a $10 fee for registration transfers. Bring a signed waiver form, found here. You will not be permitted to race without submitting a waiver.

What is the Tamers-in-Training race?


These are races to get our youngsters age 4 - 12 years old involved, share in the fun and excitement and best of all... burn up some of their energy! Click Here for more information.

Can I mail in my registration form?


Entries are accepted online only.

How much does it cost?


The earlier you sign up, the cheaper it is:
$45 - now until December 31, 2016
$55 - January 1, 2017 - February 28, 2017
$65 - March 1, 2017 - June 11, 2017
$65 - Day of Race - No race t-shirt
$20 - Tamers-in-Training Kids' Races (Ages 4-12) now until June 11, 2017. Please note the time changes for the kids' races this year. 1:00 pm for the 4-8 year olds/1:30 pm for the 9-12 year olds.
$25 - Day of Race - No Race T-Shirt. Click Here for more information.
Packet Pick Up:


Plan to arrive one hour prior to your race time. Bring your photo ID and a signed waiver form, found here. You will not be permitted to race without a signed waiver. Everyone must pick up their own race packet; let's keep it simple.

Is there a place provided to keep my belongings while participating?


A complimentary bag check will be provided to store your stuff during the race. We are not responsible for lost or stolen items. Please keep your valuables on your person or at home.

Are there different starting times?


Waves will start every 15 minutes. You will choose your wave time when you register.

Is there a charge for parking?


Parking will be available at $10 per vehicle. Please have cash ready. This includes spectator parking- please inform your fans and personal photographers that they will have to pay for parking! Car-pooling saves on gas and parking fees.

What do I need to bring on race day?



Bring your photo ID for packet pick up, this is also necessary for beer redemption or any purchased beer
Money for additional food, beer, souvenirs, and parking
Extra clothing, towel for after the race
Bandages, slings, band-aids and tourniquets
What Should I Wear?
Clothes that can get dirty, muddy and wet
Sturdy sneakers
A costume if you want
Are there any awards given?


We love all people - there are no awards. But for those of you striving to be the best you can be... we do provide results with the final finish times so you can rank yourselves among the participants.

Will Race Photos be available?


Pictures from the event will be posted on the T3 Facebook Page. Feel free to download and print pictures! Have some good shots of your own? Share them!

Is Camping available?


Muscatatuck Park has camping on site. Go here to make reservations and view the park. (muscatatuckpark.com)

What are the Rules and Guidelines?



All participants must be at least 13 years old the day of the race.
All participants must wear the timing chip provided in their registration packet. Please be sure the chip is fastened SECURELY to your shoe. Wearing the Race Bib is optional.
All runners should wear appropriate shoes during the race; the terrain is ever-changing.
Participants and spectators must abide by all instructions from the racing staff, security and medical personnel.
We welcome competition, just keep in mind this is a race, not a war, please use good sportsmanship. Also, feel free to lend a helping hand to your fellow T3 participants.
How tough is the course?


Tame the Terrain is a 4+ mile obstacle race that takes participants up and down the hills of Jennings County, Indiana trekking rock walls, ravines, cliffs, ponds, tunnels and the Muscatatuck River. There are 25+ different obstacles set within the terrain of Muscatatuck County Park will challenge participants in a beautiful, natural setting.

What if I can't complete an obstacle?


No worries, there are no penalties! Our volunteers will encourage all participants to try and complete the obstacles. WHY... because that's the FUN of doing an obstacle course race! Plus we believe our obstacles are "DOABLE" by all participants so you need to give it a try. And why is that? Because we try and offer different 'challenge' levels for those specific obstacles that may require different levels.

Do I need to swim?


No, part of the course includes water but it will NOT be necessary to swim during the race.

What kind of obstacles are on the course?


Muscatatuck Park is known as an Extreme Sports Park so we try and utilize the natural terrain and physical attributes that God has so beautifully created. Click Here for a layout of the course and pictures of the obstacles.

How many obstacles are there?


There will be 20+ obstacles, however the entire race is an obstacle.

Are there age restrictions?


The minimum participant age for the adult race is 13 years old. If you are a participant that is 18 and younger, your parent or guardian over the age of 21 MUST be present at packet pick-up to sign a waiver and release form for you. Participants age 4-12 may participate in our Tamers-in-Training mini obstacle races. Click Here for more information.

What if I need to Cancel?


You can cancel, but you don't get a refund.